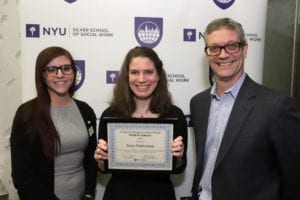 The Silver School of Social Work's inaugural #NYUSilverUp4TheChallenge Student Competition, inspired by the Grand Challenges for Social Work initiative, came to a successful conclusion at the competition finals in early April. Anna Nathanson, MSW '19, was named the Grand Challenges for Social Work Scholar for her concept addressing the "End Homelessness" challenge with a focus on how New York City can take an anti-racist stance in its efforts towards eviction prevention.
The event was the culmination of a seven-month-long, student-led competition, which was launched by the Silver School at the start of the academic year to inspire students at both the undergraduate and graduate levels to apply the core social work values to address one or more of the pressing social issues in the Grand Challenges for Social Work initiative. It was co-created by Class of 2019 MSW students Mary Burns and Elijah Thompson, and coordinated by Burns throughout the academic year under the guidance of the School's Office of Student Affairs. "We believe our Grand Challenges student competition is the first of its kind among schools of social work, and we are proud to have led the charge," said Dr. Neil Guterman, Dean and Paulette Goddard Professor of Social Work and Grand Challenges Executive Committee member. "We hope it inspires other schools to engage with the Grand Challenges to strengthen the profession."
Pictured left to right: Mary Burns, Anna Nathanson and Dean Guterman.