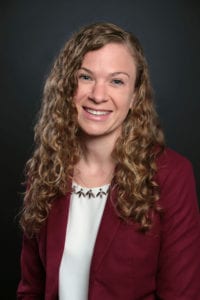 We are thrilled to welcome Kira Silk, LMSW, as director of the Grand Challenges for Social Work! Prior to joining us, Kira was the Assistant Director for Program Services at the Maryland CASA Association. After earning her MSW, Kira was awarded a Stoneleigh Foundation Emerging Leader Fellowship to assess resource parent satisfaction and develop and implement a program to improve resource parent retention in Philadelphia. She then joined the Annie E. Casey Foundation's Child Welfare Strategy Group, where she supported child welfare reform in state and county jurisdictions around the country.
Kira's interest in child welfare services developed through her work after college with adolescent girls in a residential treatment center in Baltimore and later, during her MSW program, as a case manager for children and families involved with the child welfare system in Philadelphia. Kira is also committed to reaching beyond conventional service designs and boundaries, having worked in Africa and South America on a variety of child welfare projects.
She holds a bachelor's degree in psychology from Goucher College and an MSW with a Graduate Certificate in Global Human Rights from the University of Pennsylvania. She can be reached at kira.silk@ssw.umaryland.edu.