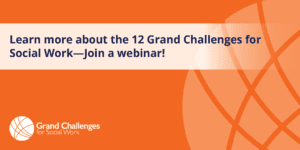 Webinars are a great way to hear directly from people working on a particular Grand Challenge, ask questions, and get involved!
UPCOMING WEBINARS
HARNESSING TECHNOLOGY FOR SOCIAL GOOD WEBINAR SERIES:
July 2, 1pm EST: Using Digital Mapping Technologies to Inform About COVID-19 by Tom Felke (also part of  Covid-19 series).
Digital mapping technologies provide visual tools for illustrating and sharing information during times of crisis such as the COVID-19 pandemic. This webinar will provide an overview of current spatial mapping technologies and considerations for their use. Case examples from Florida will illustrate the mapping of both health-related data and community resource data. Register here.
July 23, 1pm EST:   Harnessing Thanatechnology to Cope with Illness, Death, and Grief by Carla Sofka (also part of  Covid-19 series).
Although the use of thanatechnology (digital and social media to cope with life-threatening and chronic illness, death, and grief) is not new, the COVID-19 pandemic has heightened its relevance. This webinar will summarize ways that digital and social media can be used to assist with informational, emotional, and instrumental social support and describe the importance of planning for one's digital legacy. In addition to guidance about 'netiquette', the pros and cons of using thanatechnology will be identified.  Register here.
August 13, 1pm EST: Digital Mapping for Public Good by Tom Felke.
The use of digital mapping technologies have seen sporadic use in social work practice. This webinar will provide an overview of various digital mapping technologies for the collection, analysis, and sharing of data. Participants will be shown how to utilize freely available digital mapping tools available online.  Register here.
September 17, 1pm EST: Virtual Reality training in child welfare by Chad McDonald & Matt Davis (more details to follow). Register here.
RECORDINGS OF PAST WEBINARS
June 2020 | Telemental Health: What digitally curious social workers need to know (part of the Harness Technology for Social Good webinar series)
June 2020 | Intimate Relationships, Technology & Abuse: What a Gender-Based Violence Framework Can Teach Us About Online Danger | Slides only   (part of the Harness Technology for Social Good webinar series)
May 2020 |  Stay Home? Housing Inequities, Covid 19, and Social Welfare Policy Responses  (part of Covid-19 webinar series)
May 2020 | Covid-19: Learning from history about disasters and economic inequality (part of Covid-19 webinar series)
March 2020 | Leading in a time of crisis: Technology resources you can use right now | Slides only
September 2019 | Current Strategies to Reduce Extreme Economic Inequality | Slides only
April 2018 | Grand Challenges – Making Research Useful to Policy Makers 
March 2018 | Harness Technology for Social Good
November 2017 | Stop Family Violence
September 2017 | Advance Long and Productive Lives
May 2017 | End Homelessness
May 2017 | Create Social Responses to a Changing Environment
January 2017 | Building Financial Capability and Assets for All] | Slides only
October 2016 | Ensuring the healthy development of all youth by unleashing the power of prevention | Slides only