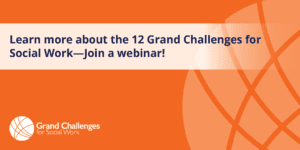 Webinars are a great way to hear directly from people working on a particular Grand Challenge, ask questions, and get involved!
UPCOMING WEBINARS
May 18 at 12pm EST – What Does Economic Security Look Like and How to Get There
Join the Reduce Extreme Economic Inequality network for a conversation about combining income and asset approaches as a way to tackle poverty more effectively.
RECORDINGS OF PAST WEBINARS
April 2022 |Taxes and Social Justice: An Agenda for Social Workers
December 2021 | Eliminate Racism Series Part 7: Build Healthy Relationships to End Violence and Ensure Healthy Development for Youth
December 2021 | Our World on Fire: Is there a Social Worker in the House?
November 2021 | Eliminate Racism Series Part 6: Close the Health Gap & Advance Long and Productive Lives
October 2021 | Eliminate Racism Series Part 5: Create Social Responses for a Changing Environment
September 2021 | Income Support: How Can Basic Income and Child Allowances Reduce Extreme Economic Inequality?  | Handout
September 2021 | Eliminate Racism Series Part 4: End Homelessness and Eradicate Social Isolation
August 2021 | Eliminate Racism Series Part 3: Reduce Extreme Economic Inequality and Build Financial Capability and Assets for All
July 2021 | Eliminate Racism Series Part 2: Promoting Smart Decarceration and Achieving Equal Opportunity and Justice
June 2021 | Grand Challenge to Eliminate Racism (Part 1)
May 2021 | Disrupting Environmental Racism
May 2021 | Consuming, Creating, and Collaborating: Social Media as a Tool for Engaged Scholarship
March 2021 | Advancing Smart Decarceration Through Research
January 2021 | Ensure Healthy Development for Youth: Behavioral Health Prevention Training Modules for the Classroom|Slides only
September 2020 | Developing child welfare skills using in-person and virtual reality (VR)-based simulations (part of the Harness Technology for Social Good webinar series)
August 2020 | Digital Mapping for Public Good (part of the Harness Technology for Social Good webinar series)
July 2020 | Making Change: Messaging your Issue for Policy Audiences 
July 2020 | Harnessing Thanatechnology to Cope with Illness, Death, and Grief  (part of the Harness Technology for Social Good webinar series and Covid-19 series)
July 2020 | Using Digital Mapping Technologies to Inform About COVID-19 (part of the Harness Technology for Social Good webinar series and Covid-19 series)
June 2020 | Telemental Health: What digitally curious social workers need to know (part of the Harness Technology for Social Good webinar series)
June 2020 | Intimate Relationships, Technology & Abuse: What a Gender-Based Violence Framework Can Teach Us About Online Danger | Slides only  (part of the Harness Technology for Social Good webinar series)
May 2020 |  Stay Home? Housing Inequities, Covid 19, and Social Welfare Policy Responses  (part of Covid-19 webinar series)
May 2020 | Covid-19: Learning from history about disasters and economic inequality (part of Covid-19 webinar series)
March 2020 | Leading in a time of crisis: Technology resources you can use right now | Slides only
September 2019 | Current Strategies to Reduce Extreme Economic Inequality | Slides only
April 2018 | Grand Challenges – Making Research Useful to Policy Makers 
March 2018 | Harness Technology for Social Good
November 2017 | Social Work Grand Challenges: Science for Action Series (Hosted by the University of Denver)
November 2017 | Stop Family Violence
September 2017 | Advance Long and Productive Lives
May 2017 | End Homelessness
May 2017 | Create Social Responses to a Changing Environment
January 2017 | Building Financial Capability and Assets for All] | Slides only
October 2016 | Ensuring the healthy development of all youth by unleashing the power of prevention |Slides only