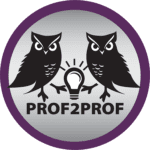 We are excited to share a new partnership between Grand Challenges for Social Work (GCSW) and Prof2Prof. Prof2Prof is a platform that allows scholars, higher education faculty, doctoral students and academic staff to share their best teaching, research, and management materials across disciplines, and on a global scale. This partnership is intended to advance GCSW goals related to education; shed light on the contributions of social work professionals; inspire collaboration and partnerships with other disciplines and create a working space for 12 GC networks. Prof2Prof will host a profile and resource page for the Grand Challenges initiative that serves as an intellectual hub for connecting GCSW network members and their resource contributions. The site has the capacity to host pages for each specific Grand Challenge, as well.
Background on Prof2Prof and GCSW Partnership
As we move forward with the Grand Challenges for Social Work, we need efficient mechanisms for sharing our work and collaborating with each other to achieve the objectives of each Challenge. Prof2Prof is a cloud-based platform that can facilitate many of these needs, and it is free to use. Also, the site is indeed an innovation created by a social work professor! Prof2Prof is an interdisciplinary web ecosystem intended for higher education professionals. Kristen Slack was motivated to create a virtual space where academics could share the full range of contributions they make to higher education, to include teaching tools and resources, as well as research. You can read more at the following link on the Prof2Prof website: Prof2Prof press release.
How can Prof2Prof be used as a tool for 12 GC Networks?
As a platform, Prof2Prof offers a solution for working networks of academics—an intellectual hub for connecting network members and their resource contributions. The Grand Challenges initiative underway in Social Work is an excellent application of this use case, given the broad network of contributors across 12 challenges, the need for network contributors to be able to manage their contributions vis-à-vis the Grand Challenges, and the desire to foster inter-disciplinary and inter-professional collaborations to achieve the goals of the Grand Challenges.
Next Steps
In the coming weeks, Kristen will provide more detailed guidance on strategies for using Prof2Prof as a Grand Challenges tool. A special session at CSWE APM18 is also planned to highlight the use of Prof2Prof by two of the GCSW networks: Harness Technology for Social Good, and Build Financial Capability for All. The leaders of these networks have agreed to use the site for sharing resources over the coming months, and provide feedback at APM18 on their experiences.
As a first step, we encourage you to join the site at www.Prof2Prof.com and complete your profile page. We also ask the leadership team for each Grand Challenge to discuss whether they have an interest in establishing a dedicated profile page on Prof2Prof. If interested, please email Kristen at Kristen@prof2prof.com and let her know. She will assist with the creation of the GC page and offer suggestions and ideas for using the page to network and collaborate.