Graduate School of Social Work at the University of Denver hosted the first in a series of GC themed events, titled: Social Work Grand Challenges Science for Action Series.
Over 200 people attended the event in person; another 40-people viewed all or many of the sessions through a live stream. The event featured a video presentation from Colorado Governor John Hickenlooper, personal remarks from Lt. Governor Donna Lynne, Dean Amanda McBride, and Professor Jeff Jenson, a plenary by J. David Hawkins, and a series of panels that included key administrators, policymakers, and prevention scientists in Colorado.
Links to videos of many of the sessions, including remarks from Governor Hickenlooper. https://www.youtube.com/playlist?list=PLeo6nX9lqlT_knpGc6q2ogU1uOA8AaKL7.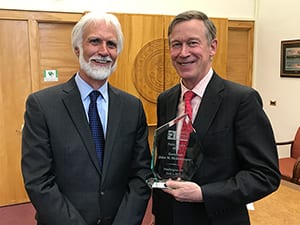 Professor Jeff Jenson and John Hickenlooper, Governor of Colorado