Eradicate social isolation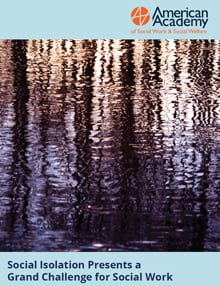 Social isolation is a silent killer—as dangerous to health as smoking. National and global health organizations have underscored the hidden, deadly, and pervasive hazards stemming from feeling alone and abandoned. Our challenge is to educate the public on this health hazard, encourage health and human service professionals to
address social isolation, and promote effective ways to
deepen social connections and community for people of all
ages. [See Brief Description]
Our Leadership
Network Co-Leads to Eradicate Social Isolation: Suzanne Brown, Sandra Edmunds Crewe, Michelle Munson, and Erika Sabbath
James Lubben, Co-Lead Emeritus
Elizabeth Tracy, Co-Lead Emeritus
Find out who is involved with the Grand Challenge to Eradicate Social Isolation.
Get involved with this Grand Challenge! Please contact carrie.johnson.2@bc.edu to learn more.
Policy Recommendations
Brown, S., Casey, E. A., Crewe, S. E., Gironda, M., Johnson, C., Lubben, J., … Tracy, E. (2016, September). Policy recommendations for meeting the Grand Challenge to Eradicate Social Isolation (Grand Challenges for Social Work Initiative Policy Brief No. 5). Cleveland, OH: American Academy of Social Work & Social Welfare.
Resources
Boston College Talks Aging: Social Isolation
AARP Foundation Priority Area: Social Isolation
Social Isolation: Effects and Solutions
Framework for Isolation in Adults Over 50
Conferences and Events
Grand Challenges Faculty Development Institute: Eradicate Social Isolation CSWE, Dallas, TX, Oct. 19, 2017 – Teaching Resources
Media
What if doctors could prescribe something to treat social isolation in seniors? It's happening now in Silicon Valley
Your relationships are just as important to your health as diet and exercise
Health Aging: Preventing Isolation
Isolation seen as critical social problem
 Harvard researchers discovered the one thing everyone needs for happier, healthier lives
How to build the 'village' you need as a caregiver
Researchers confront an epidemic of loneliness
Publications
 Arrigo, B. A., & Bullock, J. L. (2008). The psychological effects of solitary confinement on prisoners in supermax units: Reviewing what we know and recommending what should change. International Journal of Offender Therapy and Comparative Criminology, 52(6), 622–640. doi:10.1177/0306624X07309720
Berkman, L. F., & Glass, T. (2000). Social integration, social networks, social supports and health. In L. F. Berkman & I. Kawachi (Eds.), Social epidemiology(pp. 137-173). New York, NY: Oxford Press.
Brown, S., Tracy, E.M., Jun, M., Park, H., Min, M.O. (2015). Personal network recovery enablers and relapse risks for women with substance dependence. Qualitative Health Research. 25(3), 371-385. DOI: 10.1177/1049732314551055
Crooks, V. C., Lubben, J. E., Petti, D. B., Little, D. & Chiu, V. (2008). Social network, cognitive function and dementia incidence in elderly women. American Journal of Public Health, 98(7), 1221-1227.
Diamond, L. M., & Aspinwall, L. G. (2003). Emotion regulation across the life span: An integrative perspective emphasizing self-regulation, positive affect, and dyadic processes. Motivation and Emotion, 27(2), 125–156. doi:10.1023/A:1024521920068
Green, B. L., Furrer, C., & McAllister, C. (2007). How do relationships support parenting? Effects of attachment style and social support on parenting behavior in an at‐risk population. American Journal of Community Psychology, 40(1–2), 96–108. doi:10.1007/s10464-007-9127-y
Hinds, M.; Butler, J. (2015). Solitary Confinement: Can the Courts Get Inmates out of the Hole. Stanford Journal of Civil Rights Civil Liberties 11(2), 331-372.
House, J. S. (2001). Social isolation kills, but how and why? Psychosomatic Medicine, 63(2), 273-274.
Kim, H., Tracy, E.M., Brown, S., Jun, M., Park, H., Min, M.O., & McCarty, C (2015). Personal networks of women in residential and outpatient substance use disorder treatment.  Addiction Research & Theory, 23(5), 404-412. DOI: 10.3109/16066359.2015.1021339  NIHM SID 737533
Lacey, R. E., Kumari, M., & Bartley M. (2014). Social isolation in childhood and adult inflammation: Evidence from the National Child Development Study. Psychoneuroendocrinology, 50, 85–94. doi:10.1016/j.psyneuen.2014.08.007
Lobel, J. (2008). Prolonged solitary confinement and the Constitution. University of Pennsylvania Journal of Constitutional Law, 11(1), 115–138.
Lubben, J., Blozik, E., Gillmann, G., Iliffe, S., Kruse, W., Beck, J., & Stuck, A. (2006). Performance of an abbreviated version of the Lubben Social Network Scale among three European community-dwelling older adult populations. The Gerontologist, 46(4), 503-513.
Lubben, J., & Gironda, M. (2003). Centrality of social ties to the health and well-being of older adults. In B. Berkman & L. Harooytan (Eds.), Social work and health care in an aging world (pp. 319-350). New York, NY: Springer.
Mistry, R., Rosansky, J., McGuire, J., McDermott, C., Jarvik, L., & the UPBEAT collaborative Group. (2001). Social isolation predicts re-hospitalization in a group of older American veterans enrolled in the UPBEAT program. International Journal of Geriatric Psychiatry,16, 950-959.
Quittner, A. L., Glueckauf, R. L., & Jackson, D. N. (1990). Chronic parenting stress: Moderating versus mediating effects of social support. Journal of Personality and Social Psychology, 59(6), 1266–1278. doi:10.1037/0022-3514.59.6.1266
Scharlach, A. E., Davitt, J. K., Lehning, A. J., Greenfield, E. A., & Graham, C. L. (2014). Does the Village model help to foster age-friendly communities? Journal of Aging and Social Policy, 26(1–2), 181–196. doi:10.1080/08959420.2014.854664
Smith, P. S. (2006). The effects of solitary confinement on prison inmates: A brief history and review of the literature. Crime and Justice, 34(1), 441–528. doi:10.1086/500626
Tracy, E. M., Min, M. O., Park, H., Jun, M.,  Brown, S., & Francis, M. (2016) Personal network structure and substance use in women by 12 month post treatment intake. Journal of Substance Abuse Treatment 62, 55-61. NIHMS 746688 PMC4800998
Tracy, E.M. & Whittaker, J.K. (2015) Commentary: Social network analysis and the social work profession. Journal of the Society for Social Work and Research, 6(4) 643-654.
 Tracy, E.M., Munson, M., Peterson, L, Floersch, J. (2010). Social supports: A mixed blessing for women in    substance abuse treatment.  Journal of Social Work Practice in the Addictions 10 (3), 257 – 282.  PMC2952953
U.S. Department of Justice. (2016). Report and recommendations concerning the use of restrictive housing: Final report. Washington, DC: Author.
World Health Organization. (2007). Global age-friendly cities: A guide. Retrieved from http://www.who.int/ageing/publications/age_friendly_cities_guide/en/