Update (9/5/2023): Call for applications for the 2024 Grand Challenges for Social Work Doctoral awards is now open! Learn more here. Applications are due by 8pm EST on Friday October 20, 2023.
A $100,000 grant to the Grand Challenges for Social Work (GCSW) from The New York Community Trust will expand the corps of social workers with doctoral degrees and build their commitment to careers tackling some of society's biggest challenges. The grant will permit GCSW to provide $3,000 stipends to support doctoral students' research in ways that better connect their scholarly work to the people and communities they are studying. During the next two years, the fellowships will enable these graduate students to turn their research findings into proposals for policy and practice changes addressing one or more of society's 13 biggest challenges. Read the full Press Release.
Please review the Application Guidelines for a detailed review of application requirements and expectations.
Follow us on Twitter at: @GCSocialWork and like us on Facebook to stay up-to-date!
Join us for a virtual Q & A on September 21 at 3pm EST. Register here!
Helpful Links
Application Form (where you should submit all application materials)
GCSW Doctoral Awards Application Guidelines
FAQs (This will be updated as questions come in, so check back for more information.)
Q & A Session October 27, 2022 (Watch the recording here)
Q & A Session November 1, 2022 (Watch the recording here)

January, 2023 – Inaugural GCSW Doctoral Awardees and Honorably Mentions have been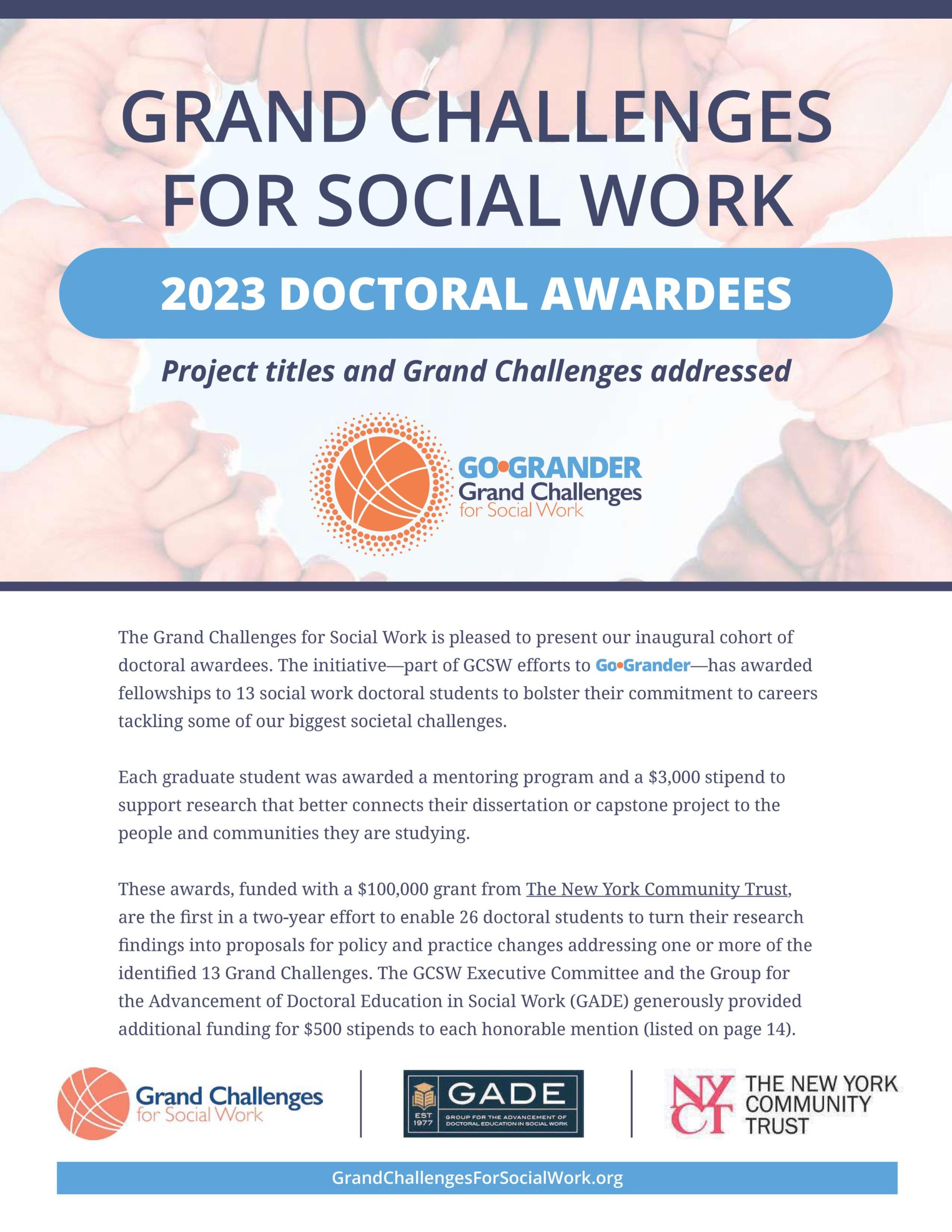 announced. Learn more about this diverse group of DSW and PhD students who are working to address one or more of the Grand Challenges for Social Work by reading their bios and abstracts here!