Rowena Fong, Ed.D.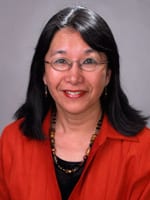 Rowena Fong is the Ruby Lee Piester Centennial Professor in Services to Children and Families in the School of Social Work at the University of Texas at Austin. She has served nationally as past President of the Society for Social Work and Research and has received the Distinguished Recent Contributions in Social Work Education Award of the Council on Social Work Education. She currently co-chairs the AASWSW Grand Challenges Executive Committee.
A prolific scholar and researcher in child welfare, Dr. Fong's current research focuses on inter country adoptions and determining contributing factors to positive ethnic identity formation of children adopted from the People's Republic of China. Sponsored by the Beijing Child Welfare Institute, she has trained Chinese child welfare workers and foster care parents about adoptions and permanency planning. In Texas she co-directs an annual Chinese Culture Camp, co-sponsored by the Austin chapter of Families with Children from China and the UT School of Social Work.
Her other areas of research and scholarship have also included domestic victims of human trafficking, racial disproportionality in public child welfare, and culturally competent practice with immigrants and refugees. She has received research and training grants from the U.S. Department of Health and Human Services; Texas Department of Health and Human Services, Office of Refugee Resettlement; Texas Department of Family Protective Services; and Texas Health and Human Services.
She has co-authored or co-edited eight books on racial dis proportionality and disparities; intersecting child welfare, substance abuse, and family violence; children of neglect; culturally competent practice with immigrants and refugees; multisystem skills and interventions in school social work practice; and church leader's counseling resource book.
Dr. Fong has also served on the Child Welfare Research and Evaluation Work group, producing a public document on "A Framework to Design, Test, Spread, and Sustain Effective Practice in Child Welfare", funded by the Children's Bureau, Administration for Children and Families, U.S. Department of Health and Human Services.