Jeanne C. Marsh, PhD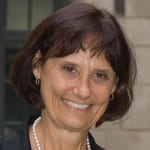 Jeanne C. Marsh is the George Herbert Jones Distinguished Service Professor in The University of Chicago School of Social Service Administration. Her fields of special interest include substance abuse services for women and families, service delivery at the intersection of multiple service systems, and knowledge utilization in practice and program decision-making.
Professor Marsh has held appointments in both the School of Social Service Administration and the Committee on Public Policy Studies at the University of Chicago. She also has served as visiting professor at the London School of Economics and at Clare Hall, Cambridge University. She has published broadly on issues of substance abuse, social service provision for women and children, and evaluation of social work interventions, and has served as principle investigator on a number of NIH-funded studies.
Awards and honors include:
The NASW Award for Excellence in Social Work Research
Service as editor-in-chief of Social Work, the journal of the National Association of Social Workers
Board member of the Society for Social Work and Research.
Professor Marsh graduated magna cum laude with a BA in Psychology from Michigan State University and received her MSW and PhD in Social Work and Psychology from the University of Michigan.