Nancy Hooyman, PhD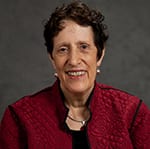 Nancy Hooyman received her MSW and PhD from the University of Michigan. She currently holds the Hooyman Professorship of Gerontology and is dean emeritus at the University of Washington School of Social Work where she chairs the Multigenerational Concentration.
She is co-principal investigator of the Council on Social Work Education's National Center for Gerontological Social Work Education, funded by the John A. Hartford Foundation, which has involved over 1,000 faculty nationwide. She is author of 11 books, has published over 130 articles and chapters, and is a frequent presenter and consultant on gerontological and women's issues. Her co-authored and widely used text, Social Gerontology: A Multidisciplinary Perspective, is now in its 9th edition.
A Fellow in the Gerontological Society of America, she received the Significant Lifetime Achievement in Social Work Education Award from the Council on Social Work Education in 2009. She is also the recipient of the Career Achievement Award from the Association for Gerontology in Social Work Education.
She has served on the advisory boards of all of the Hartford Geriatric Social Work Initiatives and of the Boston University Institute for Geriatric Social Work, and as a national mentor for the Hartford Scholars. She has provided professional leadership as President of the Society for Social Work and Research, Chair of the National Association of Deans and Directors, and Chair of the Social Research, Policy and Practice section of the Gerontological Society of America.