Michael S. Spencer, PhD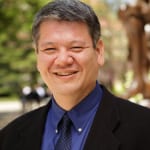 Dr. Spencer is the Fedele F. Fauri Collegiate Professor of Social Work at the University of Michigan. He is the former Associate Dean for Educational Programs and the Principal Investigator of the REACH Detroit Family Intervention, an NIH-funded, community-based, participatory research (CBPR) project which aims to reduce disparities in type 2 diabetes through the use of community health workers among African American and Latino residents in Detroit. His research examines disparities in physical and mental health and service use of populations of color, as well as interventions for reducing disparities. He investigates the association between discrimination and physical and mental health as well as service use among Latinos, African Americans and Asian Americans. Additionally, he has contributed to the social work literature on diversity and social justice and examines identity related issues such as power and privilege as it relates to prejudice and oppression of target and agent groups.
Dr. Spencer's research has been recognized through multiple awards including induction in the inaugural class of the Fellows of the Society for Social Work Research (SSWR), selection as the 2014 Council on Social work Education (CSWE) Carl A. Scott Memorial Lecturer for Equity and Social Justice, election to the position of SSWR Board Member-at-Large, and selection for the CSWE Minority Fellowship Program. At the University of Michigan, he also was the recipient of the Rosalie Ginsberg Outstanding Faculty Award for Community Service and Social Action and the Harold R. Johnson Diversity Service Award.
To access Dr. Spencer's Faculty Page, click here: University of Michigan, School of Social Work.