Michael G. Vaughn, PhD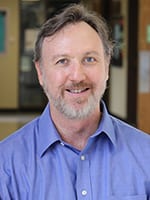 Michael Vaughn is Professor and Director of the PhD program in the School of Social Work, College for Public Health and Social Justice, at Saint Louis University where he teaches courses in philosophy of science and theory development and research design and measurement. His research agenda is comprised of several interrelated foci such as temperament and psychopathy, drug abuse, violence, school dropout, biosocial interplay, and criminal justice that have resulted in over 350 scholarly publications including 7 books. Although his work centers mainly on the disciplinary fields of epidemiology, criminology, and social work, he intentionally ignores disciplinary boundaries and publishes in and reviews for a wide swath of journals.
Current research projects include 1) extending his prior research on immigrant – native born comparisons of crime, violence and drug use to health outcomes, 2) examining trends in substance use across major developmental periods, 3) investigating asymmetry in crime and antisocial behavior across the life-course including new studies and theorizing on aging and antisocial behavior, 3) development of a measure of school disengagement risk, 4) new applications of energetics theory, and 5) studying the intrusion of belief systems on the conduct and impact of scientific research.
To access Dr. Vaughns' Faculty Page, click here:  Saint Louis University.