Maryann Amodeo, PhD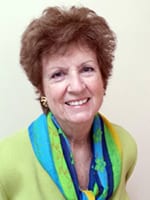 Dr. Maryann Amodeo, PhD, LICSW, is Professor and Chair of Clinical Practice, and Co-director of the Center for Addictions Research and Services, at the Boston University School of Social Work. She has more than 25 years of professional experience in the addiction field as a clinician, educator and researcher. Her research, funded by the National Institute on Drug Abuse, the Robert Wood Johnson Foundation, the Substance Abuse and Mental Health Services Administration and local foundations, includes use of evidence-based practices in addiction treatment, addiction training for social workers, the effects of parental alcoholism on children, and cross-cultural issues in alcohol and drug use.
Dr. Amodeo has published dozens of peer reviewed articles and made numerous presentations to professional audiences. She served as President of the Association for Medical Education and Research in Substance Abuse (AMERSA) from 2003 to 2005, and has held several leadership roles in the organization. She has received national awards for her work in integrating substance abuse skills into the social work curriculum. Dr. Amodeo designed, directed and served as a faculty member for the 84-hour Boston University Postgraduate Certificate Program in Alcohol and Drug Abuse: Assessment, Diagnosis and Treatment from which 300 social workers, psychologists, physicians, nurses and rehabilitation counselors graduated. Every semester, she teaches an addiction course for MSW students. For several years, she served as a faculty member for the Chief Resident Immersion Training Program sponsored by the Boston University School of Medicine, a program to train national cohorts of chief residents to identify and assist patients with substance use disorders. In 2002, Dr. Amodeo was awarded the Boston University Scholar/Teacher of the Year prize.
To access Dr. Amodeo's Faculty Page, click here: Boston University, School of Social Work.