Mary Marden Velasquez, PhD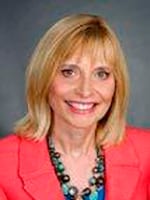 Mary M. Velasquez, Ph.D., is endowed professor and director of the Health Behavior Research and Training Institute in the School of Social Work. For the past 20 years she has received continuous NIH- and CDC-funding for research focused on the conceptualization, design, and testing of behavioral health interventions targeting substance-exposed pregnancies, prenatal health, cocaine abuse, smoking, diet and exercise, and STI prevention. Her work has led to interventions that are directly translated to practice in medical and other clinical settings by social workers, medical students, physicians, nurses, and behavioral health counselors. For example, she has been principal or co-investigator on a cluster of federally funded studies testing brief motivational interventions which have shaped the standard of care in trauma units, substance use treatment, primary and other clinical settings. She has collaborated with the CDC since 1997 to develop, test and disseminate the CHOICES intervention targeting substance-exposed pregnancy. Listed on the National Registry of Evidence-based Practices and Programs, CHOICES is used in primary care, ob-gyn, and substance abuse clinics in the U.S. and abroad. She is currently overseeing research and implementation projects in primary care settings in Harris Health District (Houston).
Over the few years, Dr. Velasquez has been training UT Austin students and interprofessional teams in Social Work, Medicine, Educational Psychology, Nursing, Pharmacy on use of behavioral interventions.  Her book on stage of change-based group substance abuse treatment (now in its 2nd edition) has been published in English, Dutch, Greek, Korean, Chinese, Japanese, Portuguese, Arabic and Russian. She is primary author on Women and Drinking: Preventing Alcohol-Exposed Pregnancies, recently published by American Psychological Association. The Association for Medical Education and Research in Substance Abuse (AMERSA) honored her with its 2016 Betty Ford Award for contributions in women's health.