Lorraine Gutierrez, PhD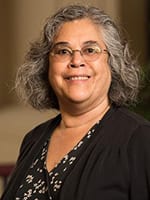 Professor Lorraine Gutiérrez is Arthur F. Thurnau Professor in the School of Social Work, Department of Psychology at the University of Michigan and Latino Studies.  Her teaching and scholarship focuse on multicultural praxis in communities, organizations and higher education. She brings to her work community-based practice and research in multiethnic communities in New York, Chicago, San Francisco, Detroit and Seattle. Current projects include understanding community engagement in emerging adulthood, identifying effective methods for multicultural community practice, and assessing effective methods for learning about social justice. Her contributions to undergraduate education have been recognized by the Arthur F. Thurnau Professorship. She is currently an editor of the Journal of Community Practice.
To access Dr. Gutierrezs', Faculty Page, click here: University of Michigan, School of Social Work.