Linda M. Chatters, PhD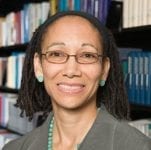 Dr. Linda Chatters is the Paula Allen Meares Collegiate Professor of Social Work, a Professor in the Department of Health Behavior and Health Education in the School of Public Health, and Faculty Associate with the Program for Research on Black Americans, Institute of Social Research.  She received her PhD in psychology from the University of Michigan, Ann Arbor as a developmental psychologist and gerontologist with a research focus on the health and well-being of African American populations across the life course and in diverse social contexts.
Dr. Chatters is a Fellow of the Gerontological Society of America (Behavioral and Social Sciences Section), has written over 160 articles and book chapters, and has been designated by Thomson-ISI as a Highly Cited Researcher in the Category of General Social Sciences.  She is recognized as a pioneer in research on African American elderly (Brown, et al., 2014) and has been designated as one of the most highly cited (2nd out of 25) African American (Huggins-Hoyt et al., 2014) and female researchers (8th out of 25) (Holosko et al., 2015) in top 25 ranked Schools of Social Work. She is a co-author of Religion in the Lives of African Americans: Social, Psychological and Health Perspectives (Sage Publications) and a co-editor of the volumes, Family Life in Black America and Aging in Black America (Sage Publications).  Her research has been supported by grants from the National Institute on Aging (Principal Investigator, "Religious Involvement among Older African Americans") and the National Institute of Mental Health (Co-Investigator, "Religion and Suicidal Behavior among Black Americans"; Co-Investigator, "Risk and Protective Factors for Depression among Racial Groups").