Jeffrey Jenson, PhD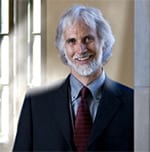 Jeffrey M. Jenson, PhD, is the Philip D. and Eleanor G. Winn Professor for Children and Youth at Risk and associate dean for Research in the Graduate School of Social Work, University of Denver.
Dr. Jenson's research and teaching interests address the etiology and prevention of childhood and adolescent problems of bullying, aggression, school dropout, and juvenile delinquency. His research focuses on the application of a risk and resilience approach to preventing childhood and adolescent health and behavior problems and on the evaluation of prevention strategies aimed at promoting positive youth development.
Dr. Jenson has published four books and numerous articles on the topic of adolescent problem behavior. He was recently principal investigator of the Youth Matters Prevention Project, a group-randomized trial assessing the effects of a structured curriculum on bullying and aggression among students in 28 public elementary schools. He is currently principal investigator of the Bridge Project After-School Investigation, a longitudinal study aimed at improving academic outcomes for children living in four Denver public housing neighborhoods.
Dr. Jenson has received several awards for his scholarship, including the Aaron Rosen Award from the Society for Social Work and Research. He was awarded the University of Denver Distinguished Scholar Award in 2003 and the University Lecturer Award in 2007. He was editor-in-chief of the journal Social Work Research from 2004 to 2008.