James Lubben, DSW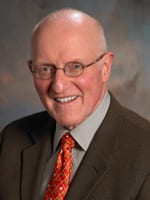 James Lubben is the inaugural holder of the Louise McMahon Ahearn Chair in Social Work at Boston College. He is also professor emeritus at UCLA where he taught for 20 years and was associate dean and chair of the Department of Social Welfare.
Lubben has also been a visiting scholar in Canada, Chile, Hong Kong, Japan, Singapore and the U.K. Lubben has actively promoted the development of social work and social welfare by serving as principal investigator or collaborator on over $32 million of research and training grants.
Additionally, he has offered consultation to the World Health Organization regarding health and welfare systems development for aging societies. He served four terms (12 years) on the congressionally mandated Gerontology and Geriatrics Advisory Committee for the Secretary of the U.S. Department of Veterans Affairs.
Dr. Lubben is the founding director of the John A. Hartford Foundation's Doctoral Fellows Program in Geriatric Social Work and the director of the University Institute on Aging at Boston College. He developed the Lubben Social Network Scale (LSNS), an abbreviated measure designed for both research and clinical use among older populations.
Dr. Lubben received an MSW from the University of Connecticut and an MPH from Berkeley. His doctorate is also from Berkeley. He has also received an honorary doctor of humane letters from his undergraduate alma mater, Wartburg College in Iowa. He is a Fellow of the Gerontological Society of America and received the Leadership Award from the Association for Gerontology Education in Social Work.