James Herbert Williams, PhD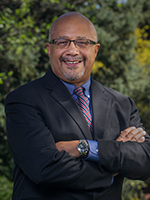 James Herbert Williams, PhD., is Professor and Director at Arizona State University, School of Social Work. Distinguished.  He previously served as Dean and Milton Morris Endowed Chair at the Graduate School of Social Work at the University of Denver.
Dr. Williams' research, publications, training, and community services focus on human security and economic sustainability, health promotion and disease prevention, behavioral health disparities and health equity, adolescent violence and substance use, mental health services for African American children, disproportionate minority confinement of African American youth in the juvenile justice system, school safety and violence prevention, and community strategies for positive youth development.
To visit Dr. Williams' Faculty Page, click here: Arizona State University.