Edward J. Mullen, DSW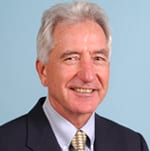 Dr. Mullen is the Willma & Albert Musher Chair Professor at Columbia University where he was associate dean (1987-1992) and acting dean (1991). He was professor at the University of Chicago (1976-1987); Fordham University (1967-1976); and visiting professor, Case Western Reserve University (1975-76). He has directed major research programs including Community Service Society of New York's Institute of Welfare Research (1969-1973), the Center for the Study of Social Work Practice at Columbia University (1992-2002), and Columbia University's Musher Program (1995-2011). He was principal investigator for NIMH funded NRSA doctoral training programs in mental health services research at Columbia University (1989-2007) and University of Chicago (doctoral and postdoctoral, 1984-1989).
He is a founder of the International Network of Social Work Research Centers; Editor-in-Chief of Oxford University Press' Oxford Bibliographies Online: Social Work; chair of New York Academy of Medicine's Evidence Database in Aging Care; member of Northwestern University's NIH funded interdisciplinary Council for Training in Evidence-based Practice; and member of HHS Office of Adolescent Health, Expert Panel, Teen Pregnancy Prevention initiative with RTI International.
For over 50 years his research and publications have examined mental health, outcomes measurement, effectiveness research, translational and implementation research, research synthesis, and evidence-based policy and practice. Evaluation of Social Intervention (1972) and Outcomes Measurement in Human Services (1997) are among his most influential publications. Dr. Mullen received a BA in Philosophy (with honors, 1960), an MSW (1962) from Catholic University, and a DSW from Columbia University (1968).