David Biegel, PhD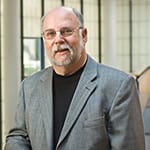 David Biegel, PhD, is the Henry L. Zucker Professor of Social Work Practice and Professor of Psychiatry and Sociology at the Jack, Joseph and Morton Mandel School of Applied Social Sciences at Case Western Reserve University. At the School, he also serves as Associate Dean for Research and Training and Co-Director of the Center on Substance Abuse and Mental Illness. Dr. Biegel's research focuses on the impact of chronic illnesses on family caregivers in mental illness and aging. As the author of a number of important books and scholarly papers, Dr. Biegel has made theoretical and empirical contributions to better understanding both the special needs and special contributions of those who care for a family member with serious illness. In particular, Dr. Biegel has played a leading role in addressing the problem of "silos" of knowledge, proposing the importance of examining similarities as well as differences in caregiver stressors and impacts across diseases and population groups.
Dr. Biegel has been the recipient of numerous research grants funded by federal, state and local sources. Dr. Biegel has served as lead editor of three book series including the current Evidence-Based Practices Book Series published by Oxford University Press. He is the author of over one hundred thirty publications principally focused on family caregiving with low-income persons with serious mental illness and with frail elderly individuals.  Dr. Biegel was a founding director of a number of research centers including the Center for Practice Innovations, the Alzheimer's Disease Caregiving Institute, and the Cuyahoga County Community Mental Health Research Institute. A Fellow of the Gerontological Society of America, he is a member of the Program Committee and Director of Mentoring for the Hartford Geriatric Social Work Faculty Scholars Program.
To access Dr. Biegel's Faculty Page, click here: Case Western Reserve University, Mandel School of Applied Social Sciences.