Cynthia Franklin, PhD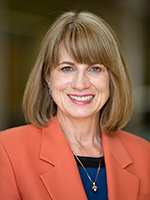 Dr. Cynthia Franklin is the Associate Dean for Doctoral Education and Stiernberg/Spencer Family Professor in Mental Health. Dr. Franklin is an international leader within the social work profession and she has over 200 professional publications and national and international presentations. Dr. Franklin holds two prominent international leadership positions as the President-Elect for The Group for Advancement of Doctoral Education in Social Work and the Editor-in-Chief for the Encyclopedia of Social Work, On-line. GADE is an organization made up of over 80 social work doctoral program directors worldwide who represent their member Universities and the Encyclopedia of Social Work is the premier reference work for the social work profession that is international in scope and is published by Oxford University Press. Dr. Franklin has worked with other researchers including her PhD students to advance research on a social work intervention, Solution-focused brief therapy (SFBT).  The culmination of this work has resulted in the recognition of SFBT by the National Registry for Evidence-based Programs and Practices that is sponsored by the Substance Abuse and Mental Health Services Administration. Dr. Franklin help create the Solution-focused High School, Garza High School, in Austin, Texas that has been recognized as a model school program for dropout prevention by the United States Department of Education. Taking Charge, an intervention that she helped develop for Latina adolescent mothers, was also recognized as a promising practice by the Office of Juvenile Justice and Delinquency Prevention and was included in the Crime Solutions model programs guide (2013).
To access, Dr. Franklin's Faculty page, click here: The University of Texas at Austin.