Bruce A. Thyer, PhD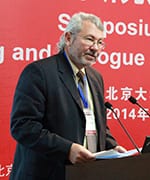 Dr. Thyer is a Professor and former Dean with the College of Social Work at Florida State University. He is also an Extra-Ordinary Professor with North-West University in the Republic of South African and an adjunct faculty member with the Tulane University School of Social Work. Previously he held the position of Distinguished Research Professor at the University of Georgia. Dr. Thyer received his MSW from the University of Georgia and his Ph.D. in Social Work and Psychology from the University of Michigan. He is a Licensed Clinical Social Worker and a Board Certified Behavior Analyst. Dr. Thyer has been a long-term promoter of the evidence-based practice model within social work. His work is largely informed by social learning theory and has taken a recent turn in the direction of exposing and discouraging pseudoscientific theories, interventions and assessment methods within social work practice.
Dr. Thyer is the founding and current editor of the journal Research on Social Work Practice, now in its 26th year of publication, and one of the founding board members of the Society for Social Work and Research. He has produced over 275 journal articles, over 100 book chapters, and over 35 books in the areas of social work, psychology, behavior analysis and psychiatry. He is a Fellow of the American Psychological Association, the Association for Psychological Science, and of the National Academies of Practice.  His most recent co-authored books were published in 2015 and are titled Program Evaluation: An Introduction to an Evidence-based Approach (now in its sixth edition), and Science and Pseudoscience in Social Work Practice. His most recently published article is a bibliography of over 740 randomized experiments published by social workers, demonstrating that the use of true experimental methods is practical, ethical, and widespread within our field.
To access Dr. Thyer's Faculty Page, click here: The Florida State University, College of Social Work.